Triumph of Tolerance, A Musical Celebration
Featuring Orchestra New England and Trinity Church Choirs
Saturday, April 23, 8:00 p.m. at Trinity Church.
Tickets: $25 in advance, $30 at door
Pre-Concert Dinner/Buffet for $60 at 6:00 p.m. at the Elm City Club's Q Clubhouse, 221 Church Street.
On Saturday, April 23 at 8pm we revisit 1816 and bring the early 19th century back to musical life. Join the Trinity Choirs of Boys, Girls & Men and Orchestra New England as they celebrate 200 years of the presence of our Episcopal gothic treasure on the NH Green.
This costumed – and a bit magical – extravaganza, reminiscent of ONE's famous Colonial Concert, will be complete with New Haven dignitaries of the historical period, as it explores the music of Schubert, Mendelssohn, Rossini, Handel and Mozart. The Triumph of Tolerance: A Musical Celebration features Mayor Toni Harp, US Rep. Rosa DeLauro, Frances "Bitsie" Clark, Michael Morand and a number of other guests portraying historical figures from 1816.
We have many options for purchasing tickets, or becoming a patron, or a sponsor.  Some patron and sponsor options include free tickets, dinner reservations, and other benefits.
Click here to download the patron/sponsorship file.
To purchase concert tickets only, or to become a patron or sponsor, hit the Purchase Concert Tickets Now! button to the left. You will be sent to a registration page, with the option to pay by check, PayPal, or Credit Card. Prepaid tickets are $25, $30 at the door.
We also will have a Pre-Concert Dinner planned at the Elm City Club's Q-Clubhouse on 221 Church Street, about 2.5 blocks from Trinity,  It will be buffet style, for $60.  For the buffet menu, scroll down. Dinner Ticket deadline is Tuesday, April 19.

Note: Patrons and Sponsors, depending on the level of donation, will be automatically registered for the buffet dinner, and do not need to reserve tickets.
If you can't come to the event, but would like to donate, select the Music for Music fund in our online donation system, Hit the Donate Now! button.
Parking
New Haven is a busy place. but parking is always just a block away from Trinity. The Crown Street parking garage is a block away. There are 194 metered spaces (6 for handicapped) within one block.  After 5pm the 2 hour limit is suspended, and parking after 9pm is free: you pay on $1.50 per hour until 9pm. All meters take credit cards. For more help on parking, click here, or on the parking meter image.
Dinner Buffet at Elm City Club's Q-Club: 6pm-7:45pm
At  Elm City Club's Q-Clubhouse at 221 Church Street, 2.5 blocks from Trinity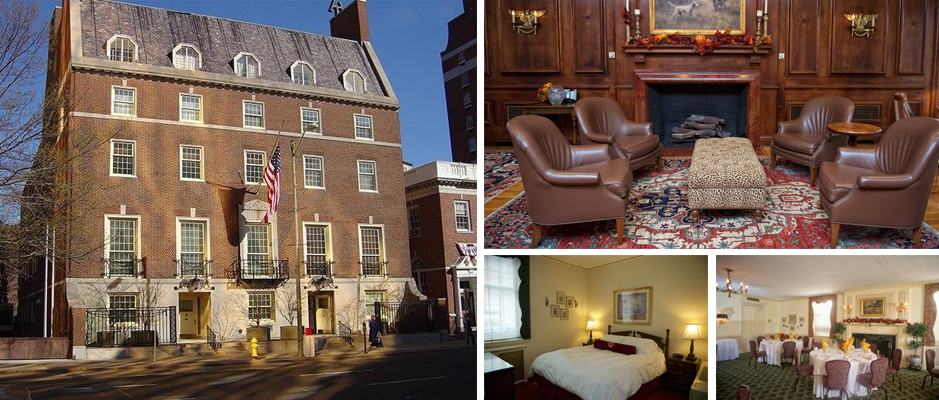 Dinner Buffet includes the following items and one complimentary drink:
Garden Salad of Mixed Seasonal Lettuces, Tomato, Fennel Shavings and Lemon-Herbal Vinaigrette
Boston Baked Cod with Lemon-Wine Sauce
Roast Chicken with Onion Jam, and
Sliced Roast Beef
Wild Mushroom Risotto
Green Beans
Roasted Potatoes
Indian Pudding
Coffee (regular and decaf) and Tea